Create an outline before you start writing
Great blog posts don't just happen. Even the best bloggers create a plan to keep them on-track.
Planning your content by writing a blog outline can do more than help you save time—it can help you become a better writer.
It can help you train your thought process and keep you from a wandering thought process. It also helps you get past writer's block.
An outline doesn't need to be lengthy, or even detailed – it's a succinct bullet point guide.
 In this lesson, you'll learn how to write outlines that help you stay on-topic, write quickly and more easily.
What Do Outlines Look Like?
Following are a few examples of recent outlines. These writers are able to jot down their ideas, create connections between their ideas and then quickly fill in the 'blanks' to end up with a comprehensive article.
Article title: How to Store Garlic You've Grown in Your Garden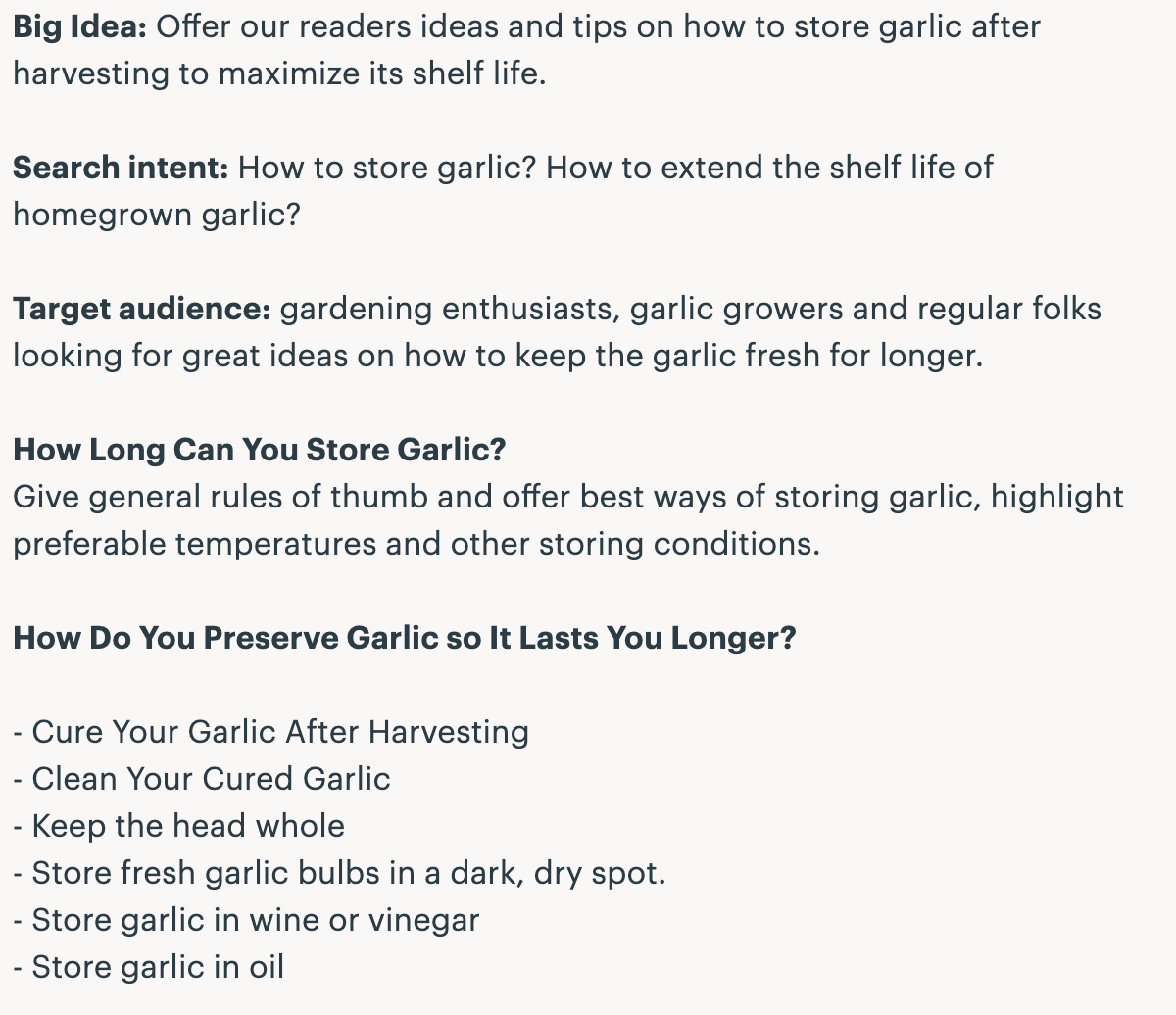 Article title: How to Build Strong Tomato Stakes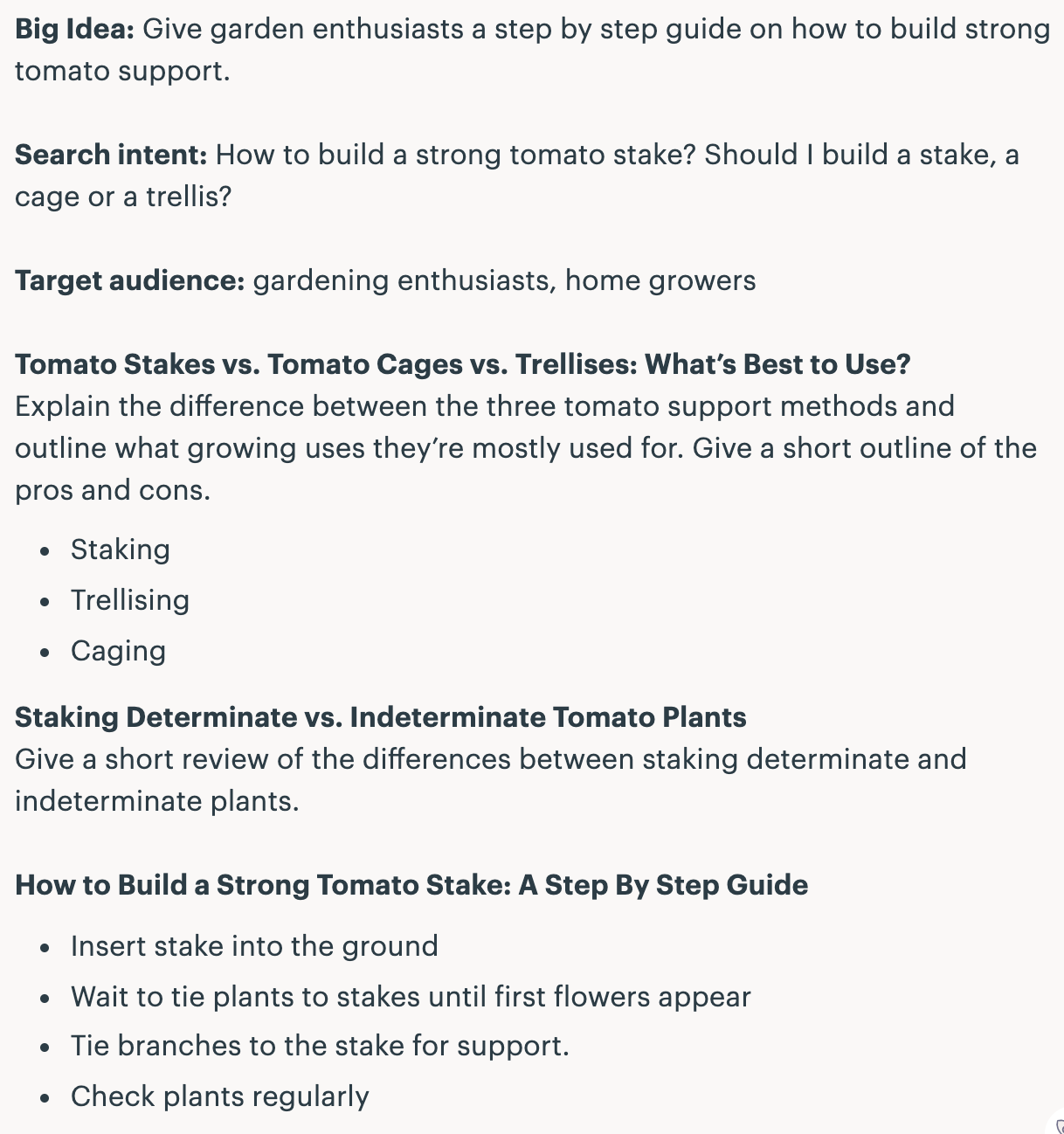 Article title: The X Best Cleaver Knives in 2020
Dalstrong is a leading maker of strong, effective, durable hand-crafted cleaver knives. Dalstrong cleaver knives have been extensively featured on numerous blogs where they rank highly. As a chef or discerning home cook the best cleaver knives to acquire in 2020 are:
H2 - Dalstrong 7 Inch Shadow Black Series Cleaver Knife
This knife boasts:
An aggressive, tough look
An extremely sharp blade
A black titanium coating for durability, sophistication and functionality
High-carbon German steel at 58+ Rockwell
H2 - Dalstrong 7 Inch Phantom Series Cleaver Knife
Outstanding attributes include:
A well-rounded blade ideal for cutting through bones, meat and hard vegetables
Ice-tempered steel for enhanced precision
D-shaped pakkawood Japanese style handle for a perfect grip
Japanese steel
H2 - Dalstrong 7 inch Gladiator Series Cleaver
Powers through any heavy-duty task with ease
The tempered, high-carbon German steel blade with a satin finish is beautiful yet brutally sharp
Excellent knuckle clearance for exceptional performance and ease of use
It is a well-balanced flexible cleaver with minimal cutting resistance
H2 - Dalstrong 9 Inch Gladiator Series Ravager Meat Cleaver
Ruthless chopping efficiency
Strikes a fine balance between weight and precision control
High-carbon ThyssenKrupp German steel for a brutally sharp blade
Slightly shorter and thicker handle for maximum heft and balance
H2 - Why Dalstrong Cleaver Knives Are The Best
H3 - Blade construction: high-carbon steel is most preferred given its ability to deliver sharp, durable blades.
H3 - Blade length: the ideal length for a cleaver blade is 7 to 9 inches. This offers versatility and maneuverability.
H3 - High grade handle materials: pakkawood is beautiful which gives Dalstrong cleaver knives visual appeal to compliment even the highest grade kitchen. Since pakkawood can harbor bacteria, Dalstrong knives are polished, eliminating this risk. Other high-end materials used include fiberglass and Garolite epoxy. 
H3 - Ergonomic handle design: from military grade G10 fibreglass to pakkawood, each Dalstrong handle is crafted to deliver a firm yet light, heaven-like grip.
CTA
Get a Dalstrong cleaver knife today and enjoy:
Exceptional performance
Refined craftsmanship 
Great value for money
Free shipping (within 48 contiguous US states)
Good Example 1: Three Sections and Sub-Points
Here is an example of an outline. Sylvia starts with a quick description of her big idea. Then, she has three main themes she will explore further. Each of these theme areas has a few bullet points that go into a bit more detail.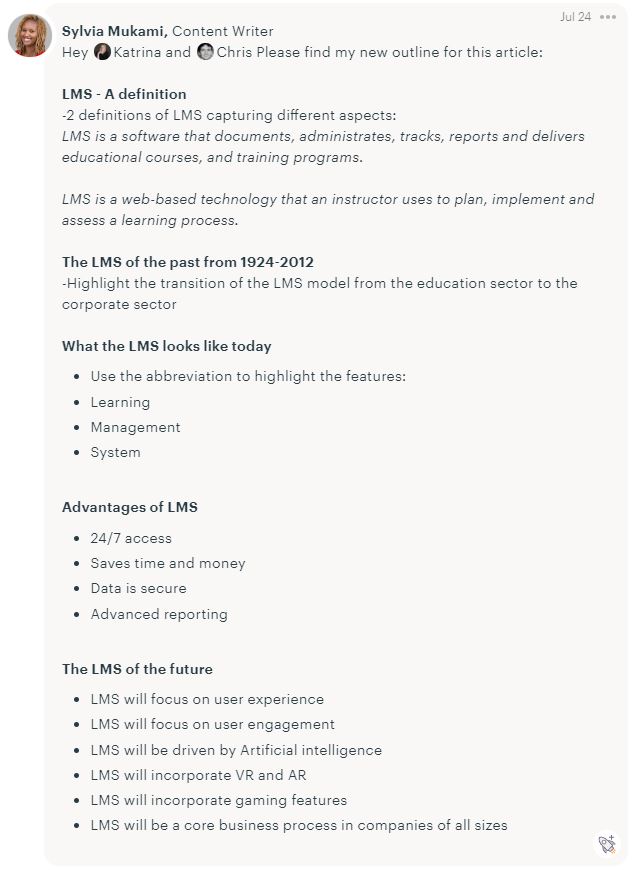 Good Example 2: Outline for a Listicle Article
A few key points to take note of in Darja's example are:
Big Idea: She sets out her big idea and this gives her the focus for the article. Her big idea contains BENEFIT statements for the reader i.e. what the reader will learn. This is her promise for the reader, that she'll fulfil by the end of the article.
Target Audience: By restating the audience the writer firmly has in mind who she is writing for. And this can mean the difference between a good storyline or something that sends people to sleep. This is not essential, but include it if it helps you remember who you're writing for.
Search Intent: By reinforcing the search, or user intent, the writer ensures that she's focused on answering that solution. The article ends up being more solution-oriented than problem-oriented.
Themes: Her 10 Examples section clearly outlines what she'll be writing on as her main points. Notice how her points are benefit driven. She starts with a fact (Foster Interactivity) and concludes with a benefit (drive employee engagement).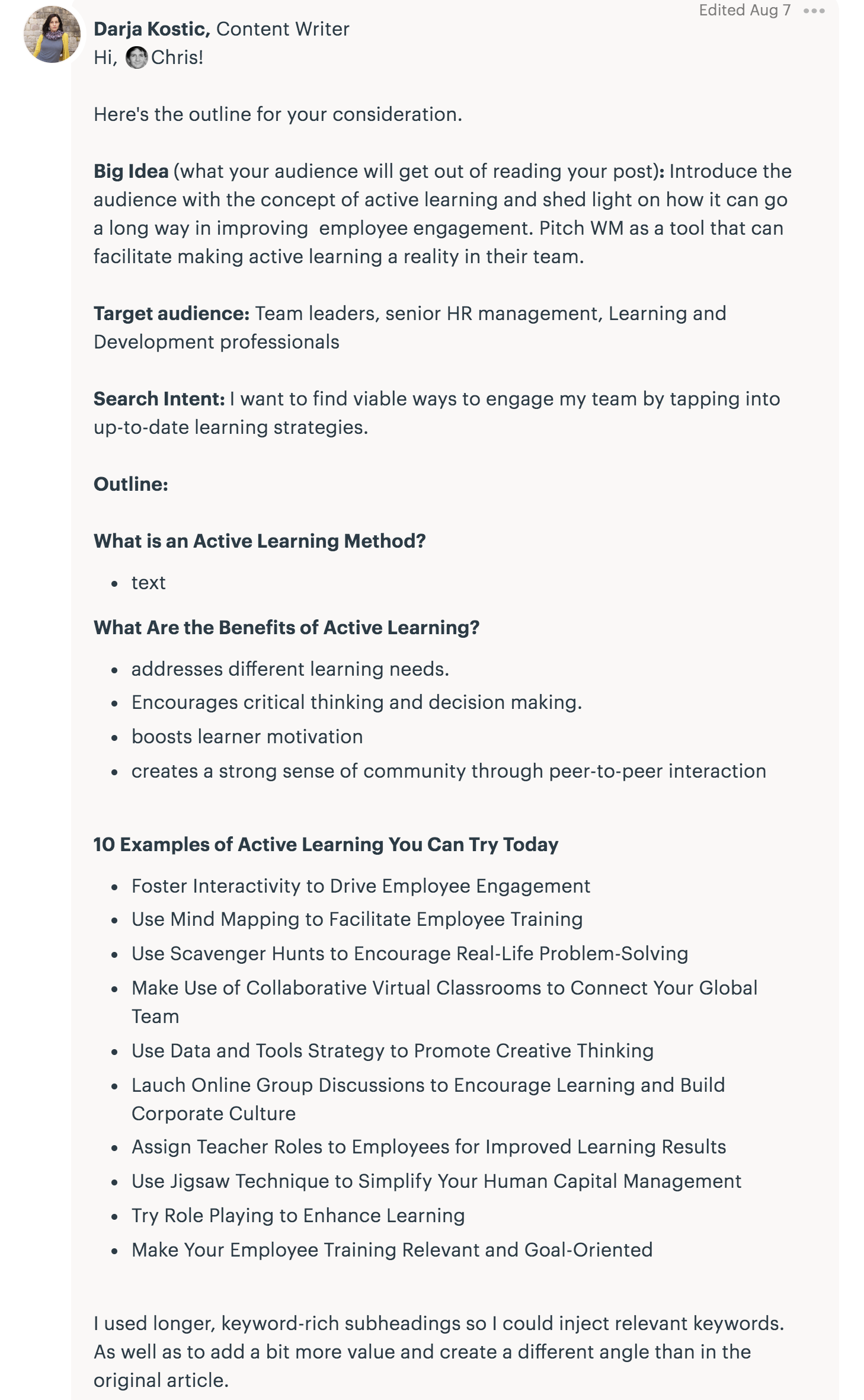 Bad Example 3: Too Many Ideas
In this example the writer has provided 5 subjects and 16 sub-points. It is impossible to deeply cover 16 ideas within a 1,200 word article.
Consider that each section (bold text) needs an introductory statement, and then each bullet point is one idea. Each bullet point will be converted into 100+ words.
Solution? Reduce the number of ideas/themes/sections. Instead of 5 sections, reduce to 3. And instead of 4+ bullet points, reduce this to 2 or 3 bullet points.
We can save the extra ideas for another article.
The below example is not terrible. It's well-written and her ideas are all good. It's just that she will have to cover a lot of ground in only 1,200 words. That's the only problem with this example.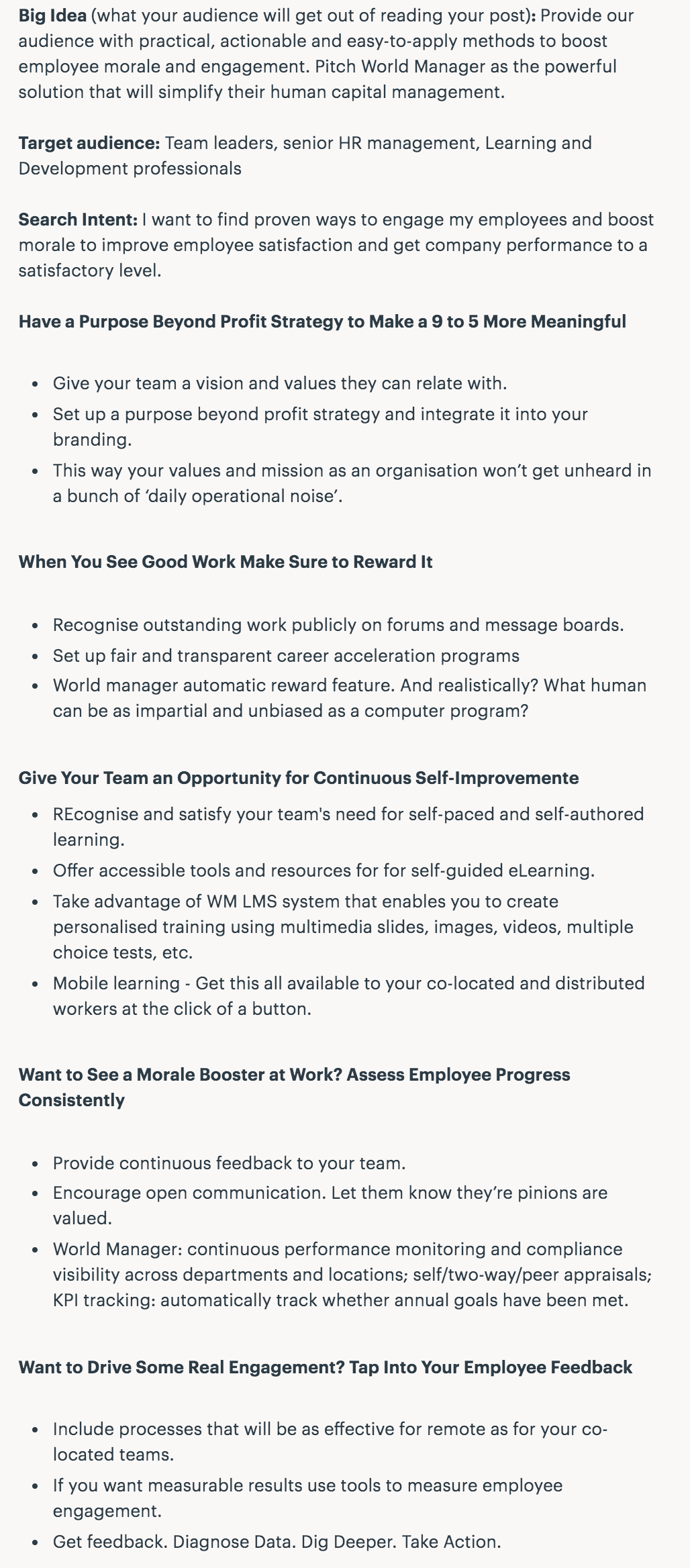 How To Create An Outline
Outlining is you knowing ahead of time the general idea of what you're going to write. It's the road map, the skeleton, the structure, the foundation—you take your pick.
Here's how to flesh out a blog outline in 10 steps and 10 minutes to help you keep your articles on topic and help you write faster.
Step 1. Understand who you're writing for and what they want
Who will be reading your content? What has motivated them to seek an answer?
What do you want them to do or learn after reading your article?
What call to action (CTA) will you use? How do you structure your article so that the CTA feels like a solution to your reader?
Write a sentence or two that answers the above points.
Step 2. Find the big idea
What's your article's big idea? Write down the big idea - what your audience will get out of reading your article.
Step 3. Break your big idea into a handful of key points.
What's a key point? A key point leads your reader to your conclusion or place of understanding.
Write a list of ideas for your article. Aim for between 3 and 6 main ideas.
Outline Template for Beginners
Not sure how to start your outline? Use this template until you become more confident in formulating your own.
Big Idea: What's the purpose of this post? What will you achieve by writing on this topic?
Target Audience: Who is likely to find this information useful? Other blog writers? Business managers? Consumers? Children? Get specific.
Search Intent: What will your reader be typing into search when they come across your article? 'How to write a great outline for my blog post' etc. Why are they searching for this? What problem do they seek to solve?
Intro:
Reference back to who you're writing for, why they are seeking an answer, and what the answer will be. Answer their question and then tell them how you're going to elaborate further.
Sometimes, it's better to write your introduction last.
You can add a link if you're going to reference an authority source or include social proof etc.
Section 1: Sub-Title That Furthers The Idea in Your Headline
Write down a few sub-points about the content of this section
Include a link to a product or maybe a reputable source
Paraphrase or quote something that an expert said
Section 2: Sub-Title That Furthers The Idea in Your Headline
Write down a few sub-points about the content of this section
Include a link to a product or maybe a reputable source
Paraphrase or quote something that an expert said
Section 3: Sub-Title That Furthers The Idea in Your Headline
Write down a few sub-points about the content of this section
Include a link to a product or maybe a reputable source
Paraphrase or quote something that an expert said
CTA: Make sure your reader understands this transition. This can be done with a sub-heading or clear segue that signals to the reader that the call to action is coming up.
Feedback On Outlines
Sometimes you can learn by looking at other people's good examples. In the following screencasts Katrina goes through a couple of Outlines to provide some feedback on how they could be written.
What Happens If You Don't Write an Outline?
Ultimately, you end up with an article that is overblown, off-track, wordy and low quality.
Check out the example in the screencast below.
This writer wrote down 10 ideas, many of which went off on a tangent to the original headline. They were somewhat related, but not really. The key ideas in the heading were HYGIENE and REPUTATION.
It would have been better to have 4 ideas that related to deep hygiene and how those would affect reputation.
Summary Checklist
Before you submit your outline for approval or start writing (if you're working for yourself) create an outline. And, get better and faster at writing outlines. Ultimately you'll save yourself a great deal of time and money.
1 - Do you have 3 solid ideas or 9 wishy-washy ideas?
Cull to 3 or 4 solid ideas so you can write more deeply on the topic. Be brutal; cull. Save the other ideas for another article.
2 - Do you have an engaging, solid introduction in mind?
Your introduction will use a hook that keeps the reader reading. It will have a promise that you fulfil by the end of the article. Either a statistic, story, study, analogy etc.
3 - Are you providing solutions or just making a list of more problems for the reader?
Focus on writing about solutions, in-depth. Your outline should be a list of solutions. People don't search Google to find more problems. They are looking for solutions.
The below screencast goes into detail on these three above points.